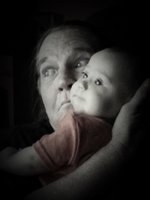 Sheila May Arnold
Sheila May Arnold, 69, passed away peacefully at her home on April 15, 2020.
Sheila was born in Philadelphia, PA to Robert E. Ballinger (United States Marine Corps.) and Alice Eugenia May Ballinger (Leeson) of Baltimore, MD. Being the child of a Marine, the family moved to several states and even Japan.
She was the oldest of three children and eventually settled in Long Beach, CA where she married and had two daughters. Sheila divorced and once her daughters were adults, she was blessed to meet an amazing man James Perea, Jr who spent the next 25 years by her side with great love and devotion.
Sheila LOVED being a Mom and she was the best Mom ever. Sheila enjoyed children and always made sure everyone was taken care of. Many called her "Mom" because she was such a beautiful soul to all. She raised her girls to be strong, independent women. She helped raise her grandchildren and great grandchild. Her children and grandchildren were her greatest joy. Sheila was such a PROUD Nana.
Sheila left a huge impact on this world and touched so many lives with her kind heart, caring spirit and LOVE for others. She will be greatly missed every hour of everyday.
Sheila is survived by her daughters Cassandra Arnold, husband William of Texas and Dawn Arnold of Florida as well as six grandchildren, Ezekiel Arnold, fiancé Chelsea and Zackariah Arnold of Texas, Ashley Marin Aponte, husband Carlos of Florida, Schelsey, Khelsey and Kody Arnold of Florida and one great grandson, Jackson Marin Aponte to keep her name alive and carry on her loving spirit while making her proud.
Until we met again…