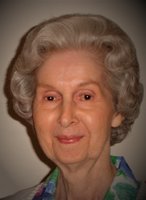 Juanita B. Henry
Juanita B. Henry, 94, of Melbourne, Florida, passed away on Saturday, April 18, 2020 at Indian River Center in West Melbourne, Florida.
She was born on September 12, 1925 in Tampa, Florida to John S. Black and Kate E. Armstrong, both of whom preceded her in death.
She was married for 70 years to her high school sweetheart, James B. Henry who has preceded her in death.
She worked as a secretary at MacDill Air Force Base in Tampa while her husband served in the Army and was overseas during WWII.
Juanita is survived by her daughter and son in law Katherine & Vaughn Holeman, her son James Henry (Jackie Mullins), as well as her Granddaughters, Emily J Holeman (Damian Anderson), Elizabeth Martin, and 4 great grandchildren.
Juanita enjoyed substitute teaching and volunteering as a Pink Lady at Wuesthoff Hospital and then working in the clinics at Fairglen Elementary, Clearlake Junior High, and Cocoa High Schools.
We will always carry your memory in our hearts.