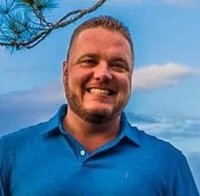 Kenneth Lee "Kenny" Roberts
Kenneth (Kenny) Lee Roberts, 40, of Harmony, Florida, passed away April 29, 2020 of natural causes.
Kenny was born January 5, 1980 in DeQueen, Arkansas. After graduating high school in Broken Bow, OK and attending college in Louisville, KY, he had a successful career in Project Management for the Telecom Industry for the past 15 years.
His greatest treasures here on earth were his two children, Taylor Jo Roberts, 13, and Jackson Roberts, 10. Kenny enjoyed time with them at the baseball field, beach, and hosted fun nights at home that included dance parties, art sessions, game nights and movies. Kenny adored his children - they were his world - and he's left a tangible void in their lives.
Kenny also enjoyed golfing, playing guitar, watching movies and music videos and get-togethers with friends and family. You knew when Kenny was present, the guitars came out and the music was loud. Kenny electrified every room with his outgoing personality, drawing people in wherever he was.
Kenny is survived by his mother, Karen Sharpe and step-dad Michael Sharpe of Palm Bay, FL, his biological father Kirk Roberts of Oklahoma, Grandfather, Jack Harnick of Midland, MI, sister Sarah Roberts-Yetman of Denver, CO, brother Dan Roberts of Tarpon Springs, FL.
He is also mourned by his extended family Sarah Roberts, Mary Morris, Diane & Wayne Treese, & Brenda Switch.
Kenny was preceded in death by his grandparents, Patricia Harnick, Bob Roberts and Irene Roberts, as well as his Uncle John Roberts and Aunt Leah Roberts and his dog, Riley.
A Celebration of Life will occur for immediate family only. Others will be planned at a later date for St. Cloud, FL, Ohio, Michigan & South Carolina.
For those that have been inquiring, an account has been set up at Bank of America to benefit Kenny's children, Taylor & Jackson. Bank of America – Account Number – 8981 1525 8030, or Zelle to Karen.sharpe90@gmail.com.