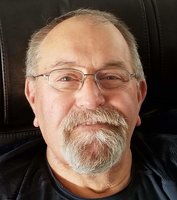 Stan D. Neff
Stan Douglas Neff, age 68, passed away in Rockledge, Florida on May 6, 2020.
Stan was born on December 4, 1951 in Lebanon, Indiana, to Fred "Doug" and Virginia (Hayden) Neff. He grew up in Paris, Illinois where sports became the focus of his life. Named after St. Louis Cardinals great Stan "The Man" Musial, Stan was an avid baseball player, who also excelled in football and basketball. He was a huge fan of the St. Louis Cardinals, Chicago Bears and Orlando Magic. Since first learning to play golf at age 8, he became an excellent golfer who went on to become a 3 handicap, winning many trophies, with the highlights of getting to meet Arnold Palmer and getting to play the Old Course at St. Andrews, Scotland.
He was a graduate of Paris High School and the University of Illinois and retired as a District Manager of ButterKrust (now Flowers) Bakery.
Stan moved to Florida in 1988 where he met and married Joan, his wife of almost 28 years. They enjoyed traveling and in addition to his love of cruises, his favorite trips were to Australia, Hawaii and Alaska. He loved playing cards, dining out with friends and getting together with family.
Stan was preceded in death by his mother and father Fred and Virginia Neff, brother Marty Neff, and stepmother Ann Neff; and survived by his wife Joan Neff, brother Terry Neff, sons Matthew (Jennifer) Neff and Lucas Neff, grandchildren Marilyn and M.J. Neff, stepsister Carol Priebe, stepbrother Dale (Ruth) Eustler, niece Jennifer (Ryan) Wheeler, grand-niece Samantha (Randy) Larabee, and beloved aunts, uncles, cousins and great grand-nieces and great grand-nephew.