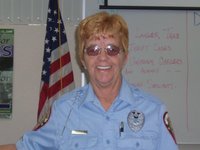 Ernestine "Tina" Hensley
Ernestine "Tina" Hensley, 73, of Melbourne, FL., passed away on Friday, May 8, 2020. She was born on October 14, 1946 in Fairborn, OH to Erwin and Rachel Hilgeman.
She retired as a Contractor for WPAFB in Fairborn, OH. Once retired, she moved down to Melbourne, FL to assist in the care of her mother, Rachel Hilgeman.
She was a proud patriot and served with the Melbourne Police Department as a Volunteer Cop. She loved the beach, the outdoors, crochet, lighthouses, and was a gun enthusiast.
Ernestine is survived by her daughter Lisa (Rob) Apana, granddaughters Emily and Andrea; stepson Andrew (Eileen) Hensley, grandsons Daniel (Cristina) Hensley, Aaron Hensley, Breandan Hensley; Twin Brother Ernest (Marie) Hilgeman; nephew Leon Hilgeman Jr; nephew Jarrod Hilgeman (Iris); Kimberly Hilgeman, great nephews Corey and Corbin Decker and her beloved dog Sophia.
She is preceded in death by her mother, Rachel Hilgeman, father, Erwin Hilgeman, brother, Leon Hilgeman, sister, Vivian Hilgeman, step grandson, Daniel Hensley Jr., and her dogs Rags, Salt and Pepper.
A private cremation was entrusted to Ammen Family Cremation & Funeral Care.
"Therefore you too have grief now; but I will see you again, and your heart will rejoice,
and no one will take your joy away from you."
John 16:22