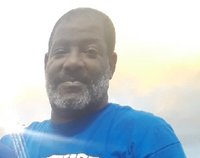 Bennett James Haslerig
Bennett James Haslerig was born July 13, 1964 to late Lonnie Haslerig and Charliemae Fullerton Haslerig in Chicago, Illinois. He was the baby boy of four children.
Bennett graduated from high school in 1982. He joined the United States Army after graduation and served until 1992. He also did a tour in Desert Storm.
He later moved to Rockledge, FL in 1997. In 1998, he worked for Space Coast Hospital as a truck driver. He picked up a second job at Florida Today also as a truck driver and later picked up a third job at McDonald's. Bennett worked all three jobs to support his family!
In 2011, he moved to Palm Bay, FL where he resided for the rest of his life. HANDS DOWN THE BEST HUSBAND AND DAD EVER!

Bennett leaves behind his wife Wanda Marie Beauchamp Haslerig. They met in 1994 in Chicago. Got married in Florida in 2002. His children Carlton Patterson (Danielle Patterson) of Charleston Ill, Wanda Pate of Palm Bay FL, Bennett Haslerig Jr of Harvey ILL, Derek Pate Jr of Palm Bay, FL/ Alabama, Terence Haslerig of Harvey ILL, Jallen Haslerig of Palm Bay FL, Jordan Haslerig of Palm Bay, FL. One brother Steven Haslerig (Regina Haslerig) Of Dalton Ill. Grandkids: Carlton Patterson (Cj), Lesyanna Sabbat, Leovanni Sabbat, Bella Haslerig, Tiana Haslerig, Talia Haslerig, and Unborn Baby Pate. Aunties and uncles alone with a host of nieces and nephews cousins and friends.

He is now joining in Heaven with one daughter Janel Haslerig, Mom Charliemae Fullerton Haslerig, Dad Lonnie Haslerig, Sister Joann Haslerig and Brother Calvin Haslerig.

Bennett loved his family dearly with that unconditional love. He would give his shirt off his back for his Family. He will always be missed and very much loved FOREVER!
Just keep making people laugh Heaven!