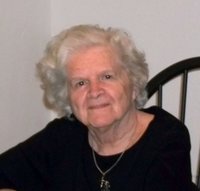 Juanita Mae "Nita" McCormick
Juanita Mae McCormick (Lane) was born in Fenton New York on January 24, 1931. She spent most of her formative years living in Binghamton New York.
While in Binghamton Juanita met and married Robert McCormick. In 1959, they moved to Florida and finally settled in Melbourne (Eau Gallie) in 1968.
Juanita had five sons, one of which (William) preceded her in death. Her husband of 66 years (Robert) passed away in 2016.
She is survived by four sons, Bruce, David (Meryl), John (Beth), Thomas (Anne); four grandchildren, Diana, Brian, Wesley and Jessica and three great grandchildren; Christopher, Bruce and Hailey.
She was the longest living out of nine siblings.
Juanita was very talented and had many interests in life, which included sewing, raising exotic birds, ceramics and cake decorating. Her cakes were so beautiful many were requested and made for weddings. She was very social and enjoyed company and conversation. She always liked going out for a meal and especially liked a "good piece of fish". She was actively involved in church for many years until driving started to become difficult for her. Juanita had many lifelong friends who will surely miss her. In her later years, she enjoyed working on jigsaw puzzles, reading and spending time with her children, nieces, grandchildren and great grandchildren.
Nita passed away peacefully while surrounded by family at Melbourne Regional Medical Center on May 12, 2020.
A funeral service will be held once social distancing restrictions have been lifted.