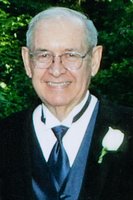 Robert L. Stafford
On June 2, 2020, Robert L. Stafford, passed away at the age of 92.
Bob was born in South Bend, Indiana, on July 13, 1927, to William and Rosa Stafford. He was one of nine children.
After graduating early from high school, he joined the military where he proudly served his country. He received his Bachelor's Degree from University of Florida, and loved the Gators. He was a member of Pi Kappa Phi Fraternity.
On a dare from his colleagues at Radiation, Inc., he applied to be a Drafting Teacher at Satellite High School, in Satellite Beach Florida. He was hired on the spot, and taught there from 1967 until his retirement in 1989. After being asked by some students to help them form the "Youth for Christ Club," he was the sponsor throughout his career. He always said that his real career began at age forty, because he loved teaching and wanted to make a difference in his student's lives.
Bob married the love of his life, June Watt, after graduating from college. Together they had two daughters, whom they devoted their lives to setting the example for leaving the world a better place. They spent their summers in Cashiers, NC that was their home away from home. They wanted to leave a legacy of faith, family, and love of their country.
Seven years after June's death, Bob met the second love of his life, Alice. This month, they would have been married for seventeen years. They devoted their time to Glenville Wesleyan Church where they had met, and to the community.
Bob was predeceased by his first wife, June, as well as their daughter, Cindy Stafford Bond. He was also predeceased by his eight siblings.
He is survived by his wife, Alice, daughter, Betsy Tribe (Doug), Palm Bay, FL, six grandchildren, Jennifer Pritchett (Joel), Bret Bond (Jenni), Scott Gabriel (Courtney), Ashley Pittman, Whitney Willcox (Stephen), and Kati Rosado (Michael), fifteen great-grandchildren, and his son-in-law, Hugh Bond. He also leaves behind many loved family members in the South Bend, Indiana area.
A celebration of Bob's life will be held on June 27th, at 11 o'clock a.m., at Glenville Wesleyan Church. 5323 Hwy. 107 N, Glenville, NC 28736.
In lieu of flowers, donations may be made to Glenville Wesleyan Church, in Bob's memory.