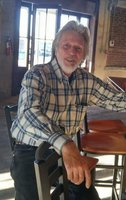 Charles "Chuck" Kelly Nordgren
Charles "Chuck" Kelly Nordgren, age 68, passed away on June 2, 2020 with his beloved wife and daughter by his side. He was born on October 7, 1951 in Monterey California to George Franklin and Ellen Marjorie Nordgren.
Chuck had a unique perspective on life and often shared his wisdom through bible verses and song lyrics. He was a prankster, an eccentric artist, a collector of oddities, and a man of his word. He let his faith in God guide him through life and he was a true believer in Christ. He loved his dog Snoop, his family, his friends, and his Iron Butterfly "In-A-Gadda-Da-Vida" ringtone on his phone.
He will be remembered for his infectious smile, generous heart, open-mindedness, and for loudly playing Tupac in his truck while wearing his favorite cowboy hat. His stories, jokes, creative interpretation of backyard mini-golf, and constant ability to light up any room he walked into will forever be missed. Without a doubt, Chuck will never be forgotten.
Chuck is survived by his wife Annette Moreno-Nordgren, daughter ReAnna Nordgren, son-in-law Jose Berrones Jr, sister Sandra Carter, loving in-laws, nieces, nephews, and a host of long-time friends.
A celebration of Chuck's extraordinary life will be held in October in Palm Bay, FL.