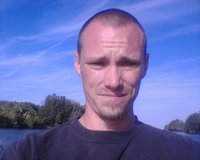 Andrew Deines
Andrew Deines, 38, passed away unexpectedly on May 31, 2020. Andrew was a beloved father, son, brother, and friend to many.
Andrew loved living near the ocean, fishing, and being out on the water. Andrew received formal training in the culinary arts and worked as a cook and a construction laborer throughout his career. Andrew attended Ascension Catholic Church and was looking forward to baptism at the time of his passing.
Andrew is survived by his father, David Merchinson, daughter Topaz Deines, brothers Ryan Piper, stepbrothers Brandon, Jarrod, and Daniel Merchinson, sister Amanda Deines, stepsister Sara Marino, grandmother Elisa Herrera, grandparents Howard and Joyce Deines, uncle Mike Herrera, and aunts Kim Herrera and Tammy Herrera. close friend and mentor Paul Hess, and numerous aunts, uncles, cousins, nieces, nephews, and friends.
Andrew was predeceased by mother Judith Deines, grandfather Alfonso Herrera, uncle Steve Herrera, and uncle Al (Alie) Herrera.
Andrew was cremated by Ammen Family Cremation and Funeral Care. Family and friends will hold a memorial service at a later date.
In lieu of flowers, you are welcome to make a donation to Ascension Catholic Church of Melbourne, FL.