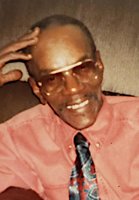 Reuben Silas Abraham
Reuben Silas Abraham was the son of the late Reuben Abraham and Anastasia Todman.
He was born on October 15, 1938 in St. Thomas, Virgin Islands. Reuben migrated with his family to Brooklyn, New York via Ellis Island in 1957 at the age of 18.
After completing high school, Reuben travelled extensively throughout the world while serving in the United States Air Force. While enlisted, Reuben met and married the love of his life, Berenice Louise Hendricks ("Debbie"), and from this union were born five children: Judith ("Ju-Ju"), Karen ("Kaaaren"), Theresa ("Teets"), Reuben ("Junior") and Donna ("Din-Din").
Reuben was a very skilled man, which afforded him employment for many years as a teletype operator, typing 90 – 100 words per minute. In addition to his typing skills, Reuben was fluent in Spanish, and a skilled artist. He was a great cook as well. The family looked forward to the holidays when Reuben would carve the Thanksgiving turkey, cook his potato stuffing, peas and rice, stewed chicken, and oh! his pound cakes whipped by hand from scratch. YUM!
Reuben LOVED to go fishing. His children can still remember the look on Mommy's face when Daddy would bring home a bucket full of fish for her to scale and clean!
While raising his family in Brownsville, Brooklyn (Howard Houses), Reuben was affectionately known as 'Mr. 'A', 'Panama', and 'Abe'. To his grandchildren, he was 'Pop-Pop'. Reuben was a unique man who loved family, life and was full of energy. The family home in Brownsville was always filled with family and friends alike. Two of his favorite pastimes was listening to country music and classic hymns and watching westerns and classic movies such as "Ben Hur" and "The Ten Commandments".
At the age of 53, Reuben and Berenice were overjoyed after becoming parents again and welcoming their sixth child, Sherene ("Reenie"). They relocated to Fort Lauderdale, Florida in 1995 and ultimately settled in Palm Bay, Florida where they purchased their first home. Reuben was so thankful to God for blessing them with a home of their own.
It was in Florida on October 16, 2016, at Discover Life Church, Melbourne, that Reuben accepted Jesus Christ as his personal Lord and Savior. Reuben loved the 23rd Psalm and recited it often from memory.
In February 2020, Reuben became ill and his health began to decline. On May 14, 2020, at his daughter Karen's house, his children called him to say their final good-byes. Approximately 5 minutes after his only son, Reuben Jr. called from Hawaii, at the age of 81, the Lord called Reuben Silas Abraham home.
Reuben was preceded in death by his wife Berenice, sister, Amora Royer and son-in-law, Carl Reedy.
Reuben leaves to cherish his memory: his six children, Judith Woodard, Karen Abraham, Theresa Reedy, Reuben Abraham, Jr., Donna Wilder, and Sherene Abraham. Two sons-in-law, Justin Woodard, and Cornelius Wilder. One daughter-in-law, Jayne Abraham. Nine grandchildren: Faith Stevens, Lesley Stevens, Nicole Stevens, Leah Abraham, Clayton Abraham, Reuben Abraham III, Jordan Abraham, Jazmine Abraham and Carla Reedy. Four great-grandchildren: Alessia, Saniyah, Zoe, and Ezra. One sister: Gloria Booker. One brother: David Stolard. Four nieces: Denise Brathwaite, Anita Booker-Bowman, Tanya Stolard-Finks and Courtney Andrada. Three nephews: James Booker Jr., Michael Booker, Darren Keys; and a host of great-nephews, great-nieces, cousins, family, and friends.