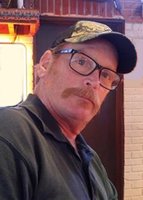 Lenny Pike Jr.
Lenard "Lenny" Joshua Pike, Jr. went to be with our Lord and Savior on Sunday June 7, 2020 at 9:25 p.m. Lenny as he was known to those who knew and loved him was born on October 5, 1954 to the late Lenard Joshua Pike, Sr. and Elizabeth Ann Jones Pike in Birmingham Alabama.
Lenny moved to Florida where he became a Computer Technician in the Aerospace industry. He was so smart and savvy with technology, dubbed "the Computer Doctor", a title he was very modest about. Lenny was very proud to have worked alongside America's finest Astronauts at the Kennedy Space Center providing computer tech support. Being part of such an integral team was very near and dear to his heart.
Lenny's death has saddened and affected so many. He leaves behind his two daughters Audra Boylston and her husband Troy along with their four children Arianna, Evan, Ryleigh, and Jaxson, and his daughter Stephanie Pike and her son Gavin. Lenny also leaves behind his two sisters Marsha McBee and her husband Sanford "Mac" and their son Eric Keown, and Cathy Robinson and her husband Danny along with their children Ben and Amanda Jackson. While working out at NASA made Lenny proud it paled in comparison to the love and pride, he had for his family, especially his grandchildren.
Lenny will be missed beyond measure. His loss is great and is a void that cannot be filled by any other. Our hearts are broken but we are comforted to know that he is with Jesus and is healed and we will see him again in Heaven.