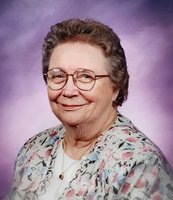 Cleda M. Anderson
Cleda M. Anderson, age 88 of Palm Bay, FL passed away peacefully at Holmes Regional Medical Center on Saturday, June 6, 2020. Cleda was born to Hower and Sara Bitler in Tremont, PA. Cleda and her husband Robert V. Anderson lived with their children for about 30 years in the Branchburg / Somerville area. Once they both retired, they resided in Palm Bay, FL.
She is predeceased by her beloved husband Robert Veitch Anderson and siblings Hower Bitler, Lois Fallabel, Rosa Caser, and Nelson Bitler. She is survived by her sons Mark Anderson (Amy) of Branchburg, NJ, Bruce Anderson (Lisa) of Melbourne, FL and daughters Cathy (Joe) Guynes of Weston, FL and Cleda (Rich) Beckhorn of Byram, NJ.
Cleda had 9 wonderful grandchildren: Justin, Corey, and Bret Beckhorn; Catherine Anderson Poulin, Jennifer Anderson Ivey; Jonathan Guynes, Jessica Guynes Brown, Trevor Guynes, and Lindsey Guynes Jay.
Cleda also had 7 great grandchildren: Amelia Poulin; Sam Guynes; Roman and Jordan Brown; Mary, James, and Emma Jay.
She also is survived by her brother-in-law Dr. William T. Anderson (Sylvia) of Lawrenceville, GA, nieces and nephews Tom (Karen) Anderson and John C. Anderson, Kevin (Suzanne) Anderson, David (Solange) Anderson, and Scott (Katie) Anderson. There are many nieces and nephews and children of nieces and nephews as well.
Cleda was a loving wife, nurse, mother, grandmother, and great grandmother. Her family was the most important thing in her life, God's best gifts. Cleda was active for many years in her church. She enjoyed square dancing, bowling, knitting, baking, doing puzzles, playing rummy, bridge, cribbage, euchre, and spending time with her family.
In lieu of flowers, donations can be made to the First Presbyterian Church at 1080 Port Malabar Blvd. NE, Palm Bay, FL 32905.
A Memorial service will be held on August 22 at 3PM at the First Presbyterian Church mentioned above. She will be laid to rest at the South Florida National Cemetery in Lake Worth Florida beside her beloved husband, Robert V. Anderson on Tuesday, August 25 at 10 AM.
She was loved by all and will be greatly missed!