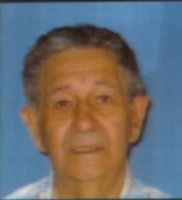 Joseph Louis Soccio
Joseph Louis Soccio, 91, of Grant, Florida passed away June 15, 2020 at Angel Care A.L.F. Vero Beach, Florida. He was born on November 22, 1928 in Batavia, New York to Ralph and Concetta (Bonarigo) Soccio.
Joseph is survived by: Daughter Laurie (Pattie) Soccio, Daughter, Shari Wright; Granddaughter Kelly Coniglio, Great Grandson Andrew Coniglio, Great Granddaughter, Sarah Coniglio.
A proud member of the United States Army, Joseph served his country honorably and fought in WWII.
Joseph will be laid to rest with his beloved wife Shirley at South Florida National Cemetery on Thursday, June 25, 2020 at 1:30 p.m.
In lieu of flowers the family requests donations be made to the Alzheimer's Association in honor of Joseph.