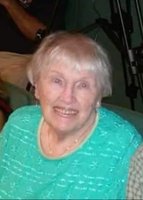 Anne R. McKelvey
Anne R, McKelvey, age 92 of Melbourne, Florida passed away on Sunday, June 7, 2020 at home surrounded by her family after a brief battle with cancer.
Anne was born on November 24, 1927 in Jersey City, New Jersey to Dr. Joseph J. and Anne S. Ruvane. She spent her early years growing up in Jersey City and Short Hills, New Jersey. She was a graduate of Oak Knoll School of the Holy Child in Summit, NJ and Caldwell University in Caldwell, NJ majoring in English and minoring in Music
After graduation, Anne taught at Battle Hill Elementary School in Union, NJ. She was proud to be able to share her knowledge with all who entered into her classroom doors.
On August 8, 1959, she married the love of her life, George McKelvey Jr. They resided in Chatham, NJ where they raised their two children. There she sang in the folk choir at St. Patrick's Church and was also very active with the Chatham Community Players both onstage and backstage. Many still remember her portrayals of Bloody Mary in "South Pacific", Mrs. Paroo in "The Music Man" and Fraulein Schneider in "Cabaret". Anne was also very active in other community organizations.
In 1981, her family relocated to Deltona, Florida where she became a member of the ladies golf team at Deltona Hills Country Club and continued her involvement in community theatre, directing musicals for Shoestring Theatre in Lake Helen. Outside of her family, one of her greatest achievements was being invited to Rome with the St. Clare Singers of St. Clare's Catholic Church of Deltona to sing for Pope John Paul II in 1996. After moving to Melbourne in 1997, Anne joined the choir at Ascension Catholic Church, singing with them for 23 years.
Anne's passion was working with the Blind. She was involved with The Talking Book Library of Daytona Beach where she recorded books for the Talking Book Program for the Library of Congress. In 1997, she was asked to become the Director of Recording for the Brevard Association for the Advancement of the Blind (BAAB) in Satellite Beach, FL, a volunteer job she did until the onset of her illness. While at BAAB, she served five years as President of the Board of Directors for their organization. She loved what she did and she was very good at it. For her work, she was honored by Honor America in 2011.
Anne was an avid reader, loved crossword puzzles, and watching golf. Most of all she loved her Lord and she loved her family.
Anne was preceded in death by her husband, George H. McKelvey Jr., a daughter, Edith H. McKelvey, her brothers, Joseph J. Ruvane Jr. and John A. Ruvane, son-in-law, Daniel R. Schultz, and grandson, Kevin T. Schultz.
She is survived by her daughter, A. Sullivan McKelvey Schultz, her son, George H. McKelvey III (Joy Underwood), her grandchildren, Victoria Schultz, Jenna, Evan, and William McKelvey, her great granddaughter, Averie Van Hulla, and many nieces and nephews.
A Memorial Mass will be held at Ascension Catholic Church in Melbourne, FL at a date still to be determined.
In lieu of flowers, please make a donation in her memory to Brevard Association for the Advancement of the Blind, 674 S Patrick Drive, Satellite Beach, FL 32937. Phone: (321) 773-7222.
Anne lived a full and colorful life. She will forever remain in our hearts.