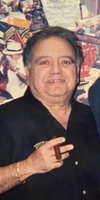 S. Sam Nardone
S. Sam Nardone passed away on Wednesday, June 17, 2020 peacefully in his home. Born in New York, he lived in Wisconsin for many years before finally settling in Indialantic, FL.
Sam served in the Air Force before being honorably discharged, after which he worked in the Transportation industry as a sales representative, eventually starting his own trucking company, TLC Services. Upon moving to Florida, he became an avid cigar smoker, eventually starting Executive Cigar Shop & Lounge with son Tony and long time friend, Ron DiLorenzo.
His immediate family includes his son, Tony and wife Kathy, grandchildren Dominick and Cecelia. Sam is also survived by brother Tom and his wife Carol, sister Patricia and nieces Kimberly, Christine, Jaqueline (deceased).
Services will be Monday, June 29, 2020 at 1:00 PM at Our Lady of Lourdes Catholic Church, 1710 Hickory Street, Melbourne, FL.
In Lieu of flowers, donations can be made to Diabetes Association...Memorial Donation Form | ADA