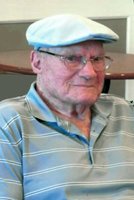 John Edward Cook
John Edward Cook, 95, of hometown Toledo, OH & most recently Palm Bay, FL passed away at William Child's Hospice House on Saturday, June 20, 2020.
He was born in Chattanooga, TN on March 18, 1925 son of parents Edwards and Grace Cook.
John was the President and owner of Cook Metal Products where he manufactured fine lawn storage buildings. John also built many beautiful homes along Lake Seneca in Montpelier, Ohio.
John was a Veteran of the US Army. He served his country during World War II and participated in D-Day: The Allied invasion of Normandy in 1944. During his military service, he earned the Bronze Star for his heroic actions.
He enjoyed spending time with his family and friends no matter whether he was traveling, boating, golfing, relaxing or just enjoying a good meal. Delicious goodies made it all the better.
He is survived by his loving wife Bette, his sons John Cook (Judy) and Ronald Cook (Sandy) of Fort Myers, FL and daughter Renee Woodbury (Al) of Alpena, MI. As well as his beloved grandchildren and great grandchildren. He is preceded in death by his daughter Regina, oldest son Donald, sister Dorothy, and brother Melvin.
John will be cremated as per wishes. Unfortunately, no services will be held due to the concerns for the health and safety of our dear family and friends due to the COVID-19 virus.
Donations are welcome to be made to Health First Foundation at HFgive.org to support Brevard county care needs to those like our beloved John.
"We need never be afraid of our tears." Charles Dickens