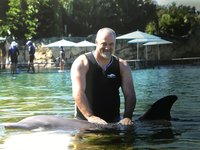 Ryan Stephen Kinnear
Ryan Stephen Kinnear, 48, passed away Tuesday June 23, 2020 at his home in Melbourne, Florida.
Born in St. Petersburg, Florida, Ryan spent most of his years growing up in Warrenton, Virginia.
After graduating from Fauquier High School in Warrenton, in June 1990, Ryan enlisted in the Army National Guard for 2 yrs before moving on to fully enlisting in the U.S. Army in 1992. Ryan served as a combat engineer in Germany as well as Bosnia and Kuwait. He was Honorably Discharged in 2001.
In 2007, Ryan became employed as a Civilian Contractor in Iraq as a mechanic and then monitoring Reverse Osmosis Water Filtration for the Military bases.
Upon completion of his contract in Iraq, Ryan enrolled in MMI in Orlando, Florida where he went on to complete a certificate in 4 specific makes of motorcycles including Harley Davidson, Kawasaki, Triumph, and BMW.
Ryan worked as a motorcycle mechanic for 3 yrs before becoming a sales associate at Lowe's Home Improvement where he worked for 4 yrs until his death.
Ryan's passions were motorcycle riding and his 2 Border Collie dogs Castiel and Fergus. He enjoyed being a member of the Pieloch Dog Park Friends group, spending every morning at the dog park and in his swimming pool with his pups.
His family includes his wife Shelley Kinnear(Smith), his father Brian Kinnear(deceased), mother Judith Kinnear(Vulich), brothers Rick Kinnear, Rob Kinnear(Renee Kinnear), Morgan Kinnear and his sons Cody Kinnear and Zach Carter(stepson) , mother in law Shirley Smith and close friends Larry Cottrill, Robert Sowards and Bruce Payton whom he considered family.
Although no services are taking place for Ryan, please consider donations to The Wounded Warrior Project