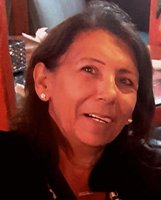 Colleen M. Fredrickson
Colleen M. Fredrickson, 66, of Indian Harbour Beach, passed away Sunday, June 20, 2020, at Vitas Hospice Center, Rockledge.

She was born in Avoca on September 23, 1953, and was the daughter of the late William and Margaret Sweeney Sickler.

Colleen attended St. Mary's Parochial School, Avoca, and graduated from Pittston Area High School.

Throughout her life, she was employed by WNEP, and Envirosafe Manufacturing. She was a very kind and charitable person. She was a loving wife, mother, grandmother, sister and friend and she will be deeply missed by all who knew and loved her.

In addition to her parents, she was preceded in death by her husband, Alfred J. Fredrickson; her brothers, William and Robert; and her sisters, Dolores D'Annunzio and June Menichini.

Colleen is survived by her Daughters, Margaret Carrella and her husband, Tom, Indian Harbour Beach; Maria Malkin and her husband Mark, Satellite Beach; Colleen Williams, Natrona Heights; sons, Shaun and Eric, Melbourne; sister, Margaret Krishak, Tunkhannock; eleven grandchildren; and several nieces and nephews.

In lieu of flowers, memorial contributions may be made to the American Cancer Society, 190 Welles St., 118, Forty Fort, PA 18704.

A Celebration of Life is being planned at a later time based on the safety of loved ones gathering together.