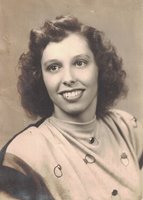 Marjorie R. (Westrick) Semelsberger
Marjorie R. (Westrick) Semelsberger, of Titusville, died July 1, 2020 after a long battle with dementia. She was born as the oldest child of Maurus and Ethel Westrick in Carrolltown, Pennsylvania, on March 21, 1924. She moved to Mims, Florida in 1958.
She was a graduate of Indiana State Teachers College in Indiana, Pennsylvania, and spent her career as a dietician at Jess Parrish Memorial Hospital in Titusville. She was a member of Holy Spirit Catholic Church for over 35 years. She enjoyed golf, travel, cooking and reading, and never missed a chance to snack or to nap.
She is survived by her children Jill (Phil), Jack (Sue), Peggy (Murray) and Tim, numerous grandchildren and great-grandchildren (including her birthday buddy, Gwen), and her sister, Maurita Grimes of Carrolltown.
She was preceded in death by her parents, her brother, Ned Westrick (three days before her), her niece, Janie, and nephews, Rick and Tom.
A memorial service will be held at a later date at St. Benedict's Church in Carrolltown where she will be buried. Many thanks to Vitas Healthcare for the excellent hospice care that was given to her in her final days.
Bye, Mom, we'll see you in heaven!