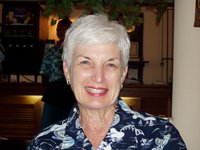 Thena Mae Pettey
Thena Pettey, age 80, of Melbourne, Florida, peacefully passed away on Wednesday, April 8th, 2020. Thena was a native of California. On September 25th, 1939, she was born and raised in Visalia. She then resided in Whittier, Seal Beach and Thousand Oaks. She lived in Texas and Arizona for a handful of years, and a short time in Australia.
She met and married her husband Jon at General Telephone (now Verizon) in Southern California. As a senior director for several enterprises, Thena worked until age 61 and travel was a large part of her work, taking her to two continents, and five US states. Early on they blended their four teenaged children in Seal Beach, California. Later she enjoyed her seven grandchildren and five great-grandchildren. Most of the family traveled to the Mexican Riviera and an Alaskan cruise for their anniversaries in the early 2000s. Thena and Jon enjoyed traveling to Hawaii, the Caribbean, Europe, Australia, among others. They also devoted many hours to the Stevens Ministry at Faith Viera Church throughout the 2000s, until she became unable to in 2016.
She was loved by all who met her and was the definition of a people person. She never met a stranger. She loved dining out and called it visiting the particular server at the various restaurants. She work endlessly on family genealogy and traced our roots to the 1600s, as well as some close friend's genealogy. She enjoyed playing cards, working on puzzles, listening to Neil Diamond and was an avid reader of mystery novels. Her love of family was displayed by watching/listening to her grandchildren play music, particularly her only grandson, Coleton, who also resides in Florida. When the family lived closer to each other there were family celebration dinners at home every month for birthdays or holidays. She was very proud that she mastered her Mom's (Grandma Allie Mae's) chocolate sheet cake, and a few other go-to recipes.
She is survived by her husband of 43 years, Jon C. Pettey. She is also survived by her daughter Joan, and grandson Coleton; step-daughter Debi, granddaughter Nikki; and step-son Jon III, granddaughters Kristin, Marie, and Mia; and 5 great-grandchildren.
She is preceded in death by her mother, Allie Mae Hamilton; father, Otis B. Malin; her brother Otis B. Malin, Jr.; her son, Steven E. Helling; recent loss of granddaughter Shelby; and many beloved aunts, uncles and cousins.
In lieu of flowers or monetary gifts, the family asks that you consider donating to the Alzheimer's Association, as she suffered like her Mother with Alzheimer's the last 5 years of her life. Please consider donating in her honor directly to Alzheimer's Association, PO Box 96011, Washington DC, 20090. https://act.alz.org/site/TR Condolences can be left on the Guest Book online.
Thena's Celebration of Life will be held at Faith Viera Lutheran Church, 5550 Faith Drive, Rockledge. Saturday, July 11th, promptly at 6:30pm. Social distancing will be practiced. Please wear a mask indoors. Refreshments in the breezeway immediately following the brief interment ceremony.