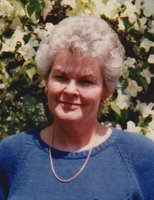 Nell Ann Willis
How can anyone write an obituary about their mother? There aren't enough words to sum her life up in some small paragraph. The important things weren't the achievements she made but how she lived her life and loved others.
She always loved being around people and you could always feel that love from her. Those that knew her will miss her greatly and are not likely to ever forget her beauty, humor, and wit.
She was raised in Nokomis, Florida, and never forgot where she came from. She stayed in contact with friends and relatives in Nokomis her whole life.
She is survived by three: brother Bob Rigby, and sons Bruce and Brian Willis. And many, many great friends.
She was an accomplished pianist and organist. Nell showed an aptitude for music at a young age and played the piano on radio and even played a calliope in an election parade once. She also loved to sing and was a member of the Tampa Oratorio Society. While in Tampa she worked for GTEDS as a trainer for a number of years until her husband Max go transferred to Alaska. She also lived in New Jersey, Pennsylvania, and Texas, but eventually returned to her native Florida as retirement approached. She was a member of the Order of Eastern Star, a Methodist, and mother of two. She loved to cook (and experiment). She remained an avid reader her whole life. Additionally, she enjoyed crafts such as painting, needlepoint and crewel work.
Despite getting M.S. in her early thirties, Nell did not let it define her. Most people never knew what a struggle she had with it. She went peacefully in her sleep at the age of 85.
A memorial service is TBD for now due to COVID19.