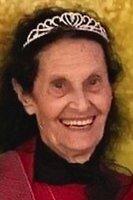 Marie P. Martin
Marie P. Martin, 88, of West Melbourne, Florida, passed away peacefully with her daughters at her side on Wednesday, July 22, 2020 at Indian River Center
in West Melbourne, Florida.
She was born on January 10, 1932 in Bronx, New York to the late Dominic Scardino and Asunta "Susie" Rizzuto.
She is survived by her daughters, Rose Marcus and Susan Wishnia, and son, Victor Mastrovincenzo, twelve grandchildren (Christopher, Maryanne, Dominick, Katherine, Susie, Stephanie, Steven, Chrissy, Cory, Jessica, Elizabeth, and Cliff) and eleven great grandchildren as well any many other family members and life-long friends.
Marie was a dedicated mother and wife. She treasured her children, grandchildren, and great-grandchildren and embraced every moment with them. She was lovingly referred to as "Nanny". Always with a smile on her face, she was the most thoughtful, caring, and generous mother, wife, and friend. Always giving gifts of food, candy, and sweets to everyone she visited or visited her. She also loved to cook and entertain at parties that she would host.
Marie loved to travel and especially loved going to Israel and Egypt. She always had a yearning to visit archaeological places with a historical connection.
In her travels to Israel, she particularly enjoyed participating in the "Volunteers for Israel" programs that offered her the opportunity to 'work' for the Israeli army. This is where she met her late-husband Bill Martin, where they continued to travel to places like China and England. Marie's first husband was Felix Mastrovincenzo and she had two children with him, Victor and the late Ronald Mastrovincenzo. She then married Stanley Wishnia and had three children with him; the late Steven Wishnia, Susan Wishnia, and Rose Marcus. She then married Dominic Farella, and finally her last husband was Bill Martin. She loved being married and was a devoted wife to each of her husbands. After her latest marriage to Bill, she reconnected with who she labeled as the "The Love of Her Life", the late Ike Sternbach. She and Ike spent many years together; dating, traveling, and singing songs to each other. They were inseparable until his passing around five years ago.
During recent years, Marie was diagnosed with Alzheimer's disease which slowly ate away at her memory. As a result of this horrible and debilitating disease, she was moved into Indian River Center in January 2020, a long term care facility, as she was no longer able to care for herself. Due to COVID-19, beginning March 13 no one was allowed to visit her in person at the facility. It broke her daughters' hearts to not be able to visit her in person while her ability to remember them and other facets of her life were fading FaceTime visits were accomplished, however it simply was not the same.
Marie had always wished that her body be donated to science - her wishes will be carried out as requested. Following her memorial service, her body will be donated to the UCF Anatomical Donor program where medical research will be performed. Her cremains will be delivered to her daughters upon completion of this valuable research.
A memorial service will take place on Monday, August 3, 2020 at 10:00 am at Ammen Family Cremation and Funeral Care located at 1001 South Hickory Street, Melbourne, FL 32901. Due to current COVID-19 restrictions, the facility will be restricting visitation to ten people in the facility at one time, which will be mostly limited to family members.
Memorial contributions can be made to the JNF Trees for Israel Campaign https://usa.jnf.org/jnf-tree-planting-center/ or to the VITAS Hospice of Brevard County https://vitascommunityconnection.org/