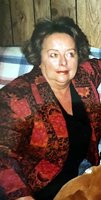 Barbara Ann DePerrior
Barbara Ann DePerrior, 86, of Melbourne, Florida passed away peacefully on Monday, July 28, 2020 at Avante Nursing Home.
Born November 23, 1933 in Oneida, New York. She was the daughter of Stanley and Alice Green.
Barbara was married many years to George DePerrior, he predeceased her in January 1979.
After many years as a bookkeeper for Onondaga Golf & Country Club, she retired and moved to Florida, following her dream to live at the beach.
Barbara is survived by her two sons, Mark W. and wife Peggy of Watertown, New York and Steven M. and wife Dawn of Rochester, New York. She had five grandchildren, Kathryn, Laura, Sarah, Emily and Jack.
We want to thank the nursing staff and employees of Avante Nursing Home for taking wonderful care of our mother for ten years.
In lieu of flowers please send donations to Avante Nursing Home Activity Center ;1420 South Oak Street, Melbourne, FL 32901.