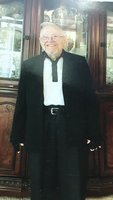 Jean Paul Robert Gauthier
Jean Paul Robert Gauthier, age 91, left this world on August 4, 2020 to spend eternity with his Heavenly Father.
He was born on August 15, 1928 to Alfred Gauthier and Bertha (Patoia) Gauthier in Ogdenburg.
He married Catherine Lorraine Thibault, the loving mother of his children: Alfred David and his wife Barbara; Ralph Paul; and his daughter Joanne Marie Smart and her husband Curtis. He was predeceased by his son Michael Steven.
He also leaves three grandsons Dr. Justin Tudino and his wife Megan Welker-Tudino, Kenneth Gauthier and Greggory Gauthier; three granddaughters Ashley Elizabeth Vernick and her husband Todd, Shanania and Shan Thopia; and a great grandson Bodhi.
He remarried Margaret (Peggy) L. Witulski who preceded him in death on March 4th, 2006.
He is also survived by his loving caregiver who he has known for over twenty years, Samantha Belli and her son Zachary Belli, with whom he lived in her home for the past seven years.
Graveside services will be held at Florida Memorial Gardens on Saturday, August 22, 2020 at 1:00 p.m. There will be a food reception following.