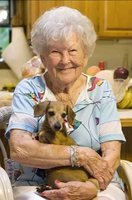 Margaret Hope Davis
Margaret "Granny" Hope Davis, age 104, went home to be with the Lord August 11, 2020.
Margaret was born on July 1, 1916 in Dixie, Georgia. She enjoyed gardening, RVing across the country, being with family and friends, raising birds of all kinds, and loved her family dogs of all kinds from Dobermans to Dachshunds.
The matriarch of the Davis family, Margaret was invited to a family reunion in heaven reuniting her with her beloved husband of 78 years, Samuel Davis and the pride and joy of her life, her son, Larry Davis. She is survived by her grandchildren Gailanne Upton (Mike), Larry Davis Jr. (Nancy), Dean Davis (Lynn), and Dawn Davis; 9 great grandchildren; and 8 great-great grandchildren. She will be missed by many and was a gift to all.
Services will be at 10:30 on Wednesday August 19, 2020 at Ammen Family Funeral Home in Melbourne, FL. She will be laid to rest immediately afterwards at Cape Canaveral National Cemetery.
Granny, we will forever hear your voice yelling "Saamm!" and smile, and with your distinct southern accent, hear you say "Night Night."