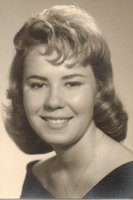 Carol Ann Elliott
Carol Ann (Schwab) Elliott, 76 of Palm Bay, FL passed away on August 22, 2020 in Palm Bay, FL.
Carol was born in Bremerton, WA on January 7, 1944 and moved to Southern California at the age of one. Carol graduated from San Pedro High School in San Pedro, CA in 1962. After her Junior year, in June of 1961, she joined her friend Debbie Grubb on a trip to Kansas where she met Terry Elliott. The two married on February 22, 1963 in San Pedro. Two weeks later, he headed to Guam for 18 months, to serve in the U.S. Navy during the Vietnam War. Carol and Terry lived in six states (CA, KS, NE, WA, ID, FL) and raised four children.
Carol spent much of her adult life as a homemaker raising her children. She was a talented seamstress. She began sewing at the age of 3 and went on to make most of her own clothing throughout her life. Carol loved baking, turning the passion into a side business selling fresh bread and baked goods at a local farmers market to raise money for her son to serve a mission. She was an avid artist, painting a variety of portraits and landscapes among other creative pursuits including woodworking, calligraphy, poetry, piano and crafting.
Carol loved serving in the Relief Society for the Church of Jesus Christ of Latter Day Saints in both Port Orchard, WA and Fernandina Beach, FL.
Carol is survived by her devoted husband of 57 years, Terry Elliott - who has been her primary caregiver since her Lewy Body Dementia diagnosis in 2011. She is also survived by her four children Todd Elliott (Christine) of Port Orchard, WA; Mark Elliott (Theresa) of Saratoga Springs, UT, Craig Elliott (Bobbi) of Folkston, GA; Lizi Elliott Huy (Trey) of Melbourne, FL, 13 grandchildren, seven great grandchildren, her brother, John Schwab (Nancy) of Manhattan Beach, CA, her paternal aunt Louisa Schwab Manning of Geneva, NE, her best friend, Zoe Ann Gleason Hendrix of Port Orchard, WA, along with nieces, nephews and friends across the country.
Her mother and stepfather, Irene (Svec) Hanscom and Stanley "Bud" Hanscom of San Pedro, CA preceded her in death, along with numerous beloved pet cats.
A family graveside service will be held August 27, 2020 at Cape Canaveral National Cemetery.
Memorial donations may be made to William Childs Hospice House in Palm Bay, FL or the Lewy Body Dementia Association at www.LBDA.org