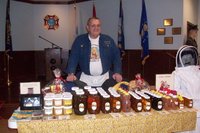 Alan V. Dixon
Alan V. Dixon, age 81, of Palm Bay, Florida, passed away on Tuesday, August 18, 2020 at Cape Canaveral Hospital in Cocoa Beach, Florida.
Alan was born in 1939 in New York State and remained there most his life until his recent move to Florida.
Alan is survived by his wife, of 50 years, Mary Dixon (Connoly);their two children, Mark (Cyndi) Dixon and Jennifer (Jeremy) Saglimbeni; grandchildren, Abigail and Kyle Dixon; Jeremy, Daniel, John and Anna Saglimbeni; along with his children from his first marriage, Alan (Ana), Jim and Shelly Dixon; grandchildren, Shauna Dixon and Mason and Eden Haven; his sister Kay (Peter) Cooke; brother David (Maura) Dixon; many nieces and nephews.
Also was predeceased by his parents, Clarence and Marion Dixon and his brother, Edwin (Roslyn) Dixon.
Alan, a Navy Veteran, went on to retire from P&C Warehouse, after 40 years. Over the course of his life, he became an accomplished beekeeper, building a successful business around something he loved. He was a friend and support to many around the community and will be lovingly remembered, by all who knew him.
A memorial will be held September 1, 2020 at Freedom Christian Center, Melbourne, FL.
Alan will be laid to rest at Cape Canaveral National Cemetery at a later date.
In lieu of flowers, memorial contributions may be made to South Brevard Beekeepers of Palm Bay, FL or Hospice of Health First, Melbourne, FL.