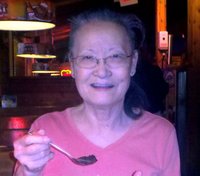 Chong Ae Casteel
Chong Ae Casteel, age 76, of Palm Bay, Florida passed away on Monday, August 24, 2020.
She was born in South Korea on June 20, 1944.
Chong is survived by her loving family. Daughter, Lisa Fanton and her sons, Corey & Jeremy Ruda; daughter, Michelle McNamara, MD; daughter, Monica Fanton; daughter, Davina Casteel and her daughters, Dionna Casteel and Jade Casteel Anderson.